NYC in Full Bloom. (old)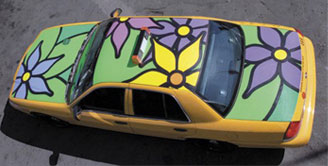 Garden in Transit
was one of the largest collaborative art projects in the city's history when it debuted in the fall of 2007. I hadn't noticed it until reading about it recently.
As part of this art, education and creative therapy project, 23,000 children in schools and hospitals - in addition to many adult volunteers - have painted 80,000 flowers on 750,000 square feet of adhesive panels for a four month public art exhibition featured on taxis citywide.
I'm not crazy about the specific artwork, but using the ubiquitous NYC taxi as part of a city-wide art project is pretty cool.
Labels: art, environmental, inspiration, project
Badgered at 10:27 AM